This page details any fundraising events that are taking place to support Ruth in taking part in the 2015/16 Clipper Race.
Quiz night and Auction
A massive thank you to everyone who supported the event which took place on Friday 28 November. To the most amazing team for making it all possible and everyone who came along and took part. I couldn't have dreamed that the final total would be as high as it is, and I am utterly grateful for each and every penny.
In total, the evening has raised a whopping £2001.39 which equates to sending me another 1601.1 miles on my journey.
'Float your boat' fundraising competition
Many thanks to all of you who bought boats for this competition – you have helped me raise another £302.50 towards my fundraising total!
The winners for this competition are as follows:
In the 'furthest from home' category the winning boat managed to travel a whopping 7589 miles to Kalasey Beach, Menado Bay, North Sulawesi, Indonesia! Well done to 9 year old Julien for winning this category.
There are two winners in the 'most unusual' category with a under 18 and adult winner (many thanks to my independent judge, Rosie, for picking these).
The under 18 most unusual category has been won by 7 year old Ethan, who took his boat on an adventure in a Boeing 777 British Airways training flight simulator at Heathrow Airport where he attempted to land on the runway 17R at Denver.
The adult winner goes to Sally who managed to float her boat in the shadows of one of the Clipper Race Yachts when they were at St Katherine's Dock in London following the 2013/14 race.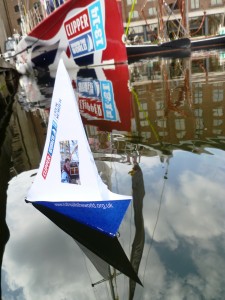 Winners will receive a postcard during the 2015/16 Clipper Race and the winning photos will be put onto a t-shirt that sails round the world with me.
Thanks for taking part!