April 25th had seemed a long way in the future but before I realised it I was heading to the Guildhall in Portsmouth for Crew Allocation.
The nearer to the Guildhall I got the more I felt sick – I can only compare it to that of the feeling pre audition or exam where you are so nervous you don't really know what to do with yourself. It's odd really as all I had to do was walk in the building, sit down and wait for my name to be called. However that name call had everything riding on it. It was going to determine not only who my skipper was but the people I will spend eleven months with. For me that was a big deal! What if I don't get on with them? What if they don't like me? What if they aren't as competitive as I am?
The Guildhall was a sea of red Clipper crew jackets – this didn't help with my nerves as it made it even harder to spot familiar faces as the red jackets make everyone blend together as one mass. We had a Level 1 reunion and it was nice to catch up with people once more and we then all sat together to await our fate and support one another.
The wait however continued as before the crew announcements were made there were presentations to update us on all things Clipper. The start port was revealed – we are starting from St Katherine's Dock, London on Sunday 30 August with Race 1 officially starting off Southend Pier on Monday 31 August. A location now known made things feel even more real and also exciting that I will start and end my round the world sailing in the city I've called home for the last eight years (who would have thought an Oyster card would be all I need to get there too!).
Finally the long wait was over and the 12 Clipper Race Skippers were introduced and called to the stage. Each one in turn would read half their crew and then, when everyone had been, the process would start again with the other half. At this point I really though I was going to be sick and my heart was beating so loudly it was hard to concentrate! Who was going to read my name? Who was going to read the names of the friends I was sitting with? Would any of us be on the same boat? What if my name wasn't read at all and this was all a dream and not real? The entire Guildhall fell silent as the first skipper stood up, everyone eagerly awaiting their name to be called. Luckily for me I only had to wait for the 4th skipper to step forward before I heard my name. When it happened I didn't know how to react, I just sat there in a stunned silence thinking this is it, this is my team, the wait is over. The process then became exciting as my friend Nick, who I was sitting next to, had his name called too. And then it continued to increase with excitement as two other names of people from my Level 1 were also called out – Kieran and Jo. In fact the four of us were sitting in a line together! As well as buddies from Level 1, Paul who was on my level 3 was also in the team. Suddenly all my nerves went and it changed to eager anticipation and excitement. What ever was to happen from here on in was going to be OK, I could feel it. We were all part of Team Daniel and followed the rest of the team to our break out room so that we could get our campaign up and running.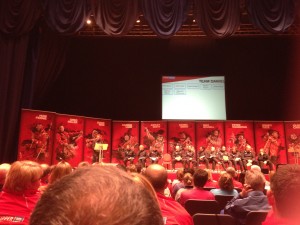 The rest of the day was spent as a team, finding out about one another and Daniel's intentions for us and the team. I am not going to go into details here as you don't know who might be reading this as after all they could be part of the opposition!!
Now the Team Daniel campaign has begun. I am already beginning to live and breathe itas in the week following Crew Allocation we all filled out questionnaires and from this Daniel has allocated roles to people. I am the Team Coordinator so there hasn't been a day yet when emails haven't been exchanged or spreadsheets worked on! We also now know our sponsor – Team Daniel, sailing CV29 are sponsored by Derry-Londonderry-Doire.
This adventure has started a new chapter – lots of my unknowns are no longer. All that's left to do is raise the final few thousand pounds of the money I need to take part in this adventure of a lifetime and once that is in the bag the dream will be a reality!